Share on Facebook
Share on Twitter
Share on Whatsapp
Share on Linkedin
Share on Email
Published March 29, 2022, 6:30 p.m.
Seminario Dynamics of Hysteretic Systems
17 January 2022, 11:30 - 13:30 am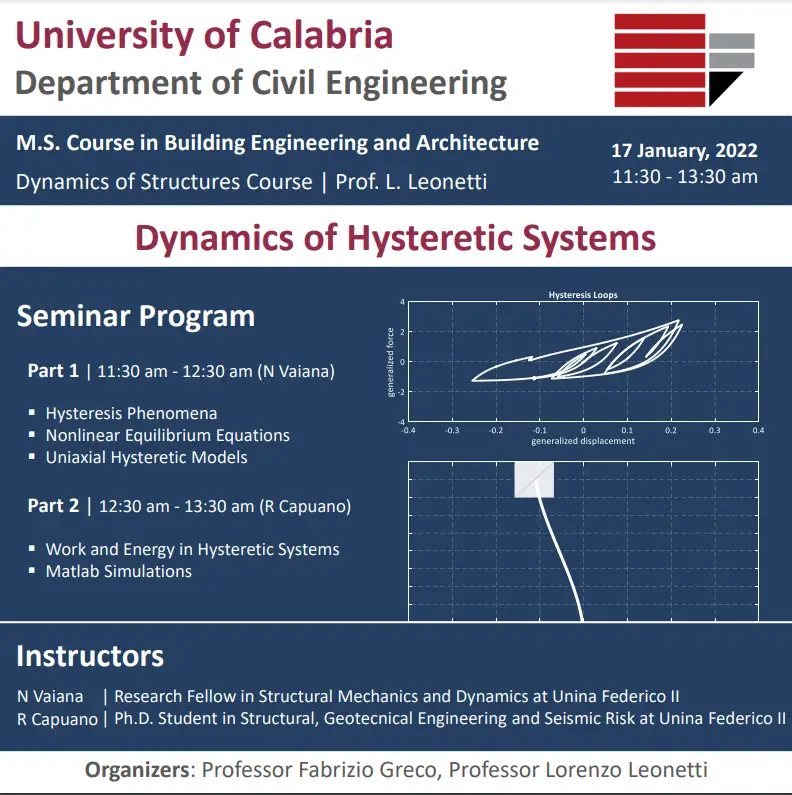 Si comunica a tutti gli interessati che lunedì 17 gennaio 2022 dalle ore 11:30 alle ore 13:30 si terrà un seminario online dal titolo "Dynamics of Hysteretic Systems" nell'ambito del corso di Dinamica delle Strutture del Corso di Laurea Magistrale a ciclo unico in Ingegneria Edile-Architettura.
Il seminario, organizzato dall'Ing. Lorenzo Leonetti, docente del corso, e dal Prof. Fabrizio Greco, sarà tenuto dagli Ingg. Nicolò Vaiana e Raffaele Capuano, ricercatori del Dipartimento di Strutture per l'Ingegneria e l'Architettura dell'Università degli Studi di Napoli "Federico II".
Sarà possibile partecipare alla diretta streaming per mezzo del seguente link: 
https://teams.microsoft.com/l/meetup-join/19%3ameeting_Njg3NWJiMzMtOTFmZC00NjMzLTgzNDItMDVlYjgyYzdhZjQ3%40thread.v2/0?context=%7b%22Tid%22%3a%227519d0cd-2106-47d9-adcb-320023abff57%22%2c%22Oid%22%3a%2271ed2f67-b20a-4dc4-ab9a-50a9510bc078%22%2c%22IsBroadcastMeeting%22%3atrue%7d&btype=a&role=a
tags
Published in
---